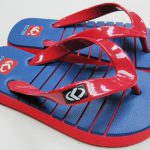 K303-09 ◉ Red / Navy
RM24.90
Product Features :
● Slip Resistant / Comfort / Durable
The original recipe of KHAKURO® foam sole provides ultimate comfort with perfect weight and sponginess, as well as excellent abrasion and slip resistance properties.
● Breathable
The specifically engineered ventilation grooves on sole surface creates an air permeable effect allowing moisture and humidity to expel quickly, with the result of cool and dry feet.
● Flexible
The strategic positioning of the grooves helps release strains on sole surface to create an ultra-flex feature while walking on it.
Support